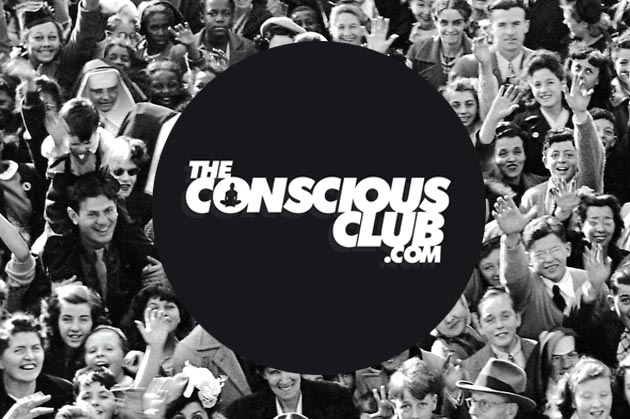 How I found out about the Conscious Club?
Its November 2014 and I have finally attended my first Conscious Club experience which is something that I have been meaning to do now for quite some time.
I have been living in Sydney for over 3 years now since 2011 and for well over a year one of my good friend Josh Stega (AKA The Wealth Guy) has been telling me about this regular ongoing event called the Conscious Club. He has been enticing me to come along and join in on the experience but at the end of the day the little that I knew about the Conscious Club could compare to attending and actually participating in the experience for myself.
So basically I found out about the Conscious Club through word of mouth from my friends who have been living in Sydney and immersed themselves in a thriving health and wellness culture that is on the precipice of entering the mainstream, that is if it is not already.
What is the Conscious Club?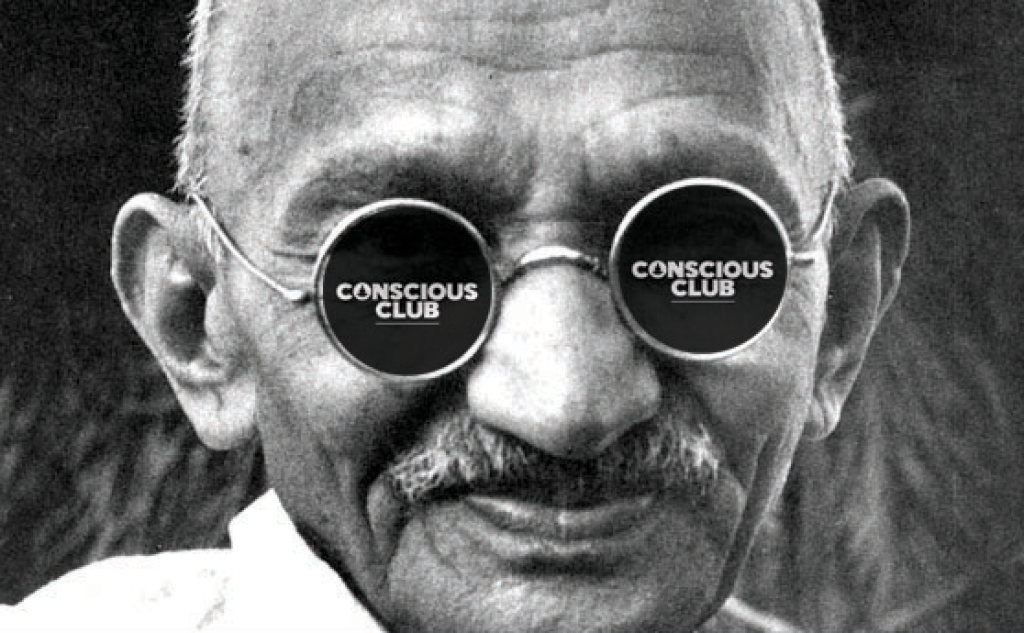 The Conscious Club was created in 2012 and is the brainchild of Gary Gorrow and Tim Brown with the help of some of their closest friends and family. The initial idea of the Conscious Club came about because these guys were seeking an alternative to the unhealthy and unconscious style of socializing that is common amongst adults in our society. Sick and tired of going out to dark, dingy and loud night clubs where they would mindlessly consume huge amounts of alcohol and not even be able to have a decent conversation with one another over the loud repetitive music. Ultimately, they were fed up with the negative vibes and energies that surrounded the typical nightclubbing scene, they viewed this type of socializing as "unconscious" living.
If there is something that we love here at the Place of Persistence it is when people seek to innovate and break the mould of what is considered the norm. So to break the mould of this sort of unconscious lifestyle the boys with help from those closest to them created the Conscious Club which aimed to band together like minded people who felt the same way they did and were sick and tired of mindlessly abusing their bodies with drugs and alcohol into the wee hours of the morning only to wake up the next day feeling hungover and sorry for themselves and their bodies.
Through creating the Conscious Club they began to hold regular events down at the Bondi Beach Pavilion, something that started out with a small group has now grown into an event that is held every couple of months which now attracts over 500 people who are all seeking to socialize in a way whichs promote conscious living through kindness, health and wellbeing, amongst many other positive virtues.
So what happened at the Conscious Club?
I had pre-purchased a ticket for $57 through www.consciousclub.com and I arrived at the Paddington Town Hall where I met up with a friend of mine. We immediately went up stairs and were welcome by some of the most warm and friendly people who handed us a dinner box filled with some wonderfully fresh vegetarian food. There was a bar set up which had lemon and mint water and various hot teas. We got there at around 6pm and continued to mingle with various people for about 1 hour.
After a bit of chit chat and some yummy food everyone began to make there way into the main auditorium where there were over 500 seats set in rows facing a main stage. As we made our way in I immediately noticed that there was a small book and a gold bullion looking coin sitting on each seat. More will be explain about this shortly.
To be quite honest I had no idea what I was walking into or about to see and experience. I was lucky enough to meet a lovely lady who is one of the business advisors to the Conscious Club and who sits on their committee. So she was able to get us some good seats just 2 rows from the stage.
Group Meditation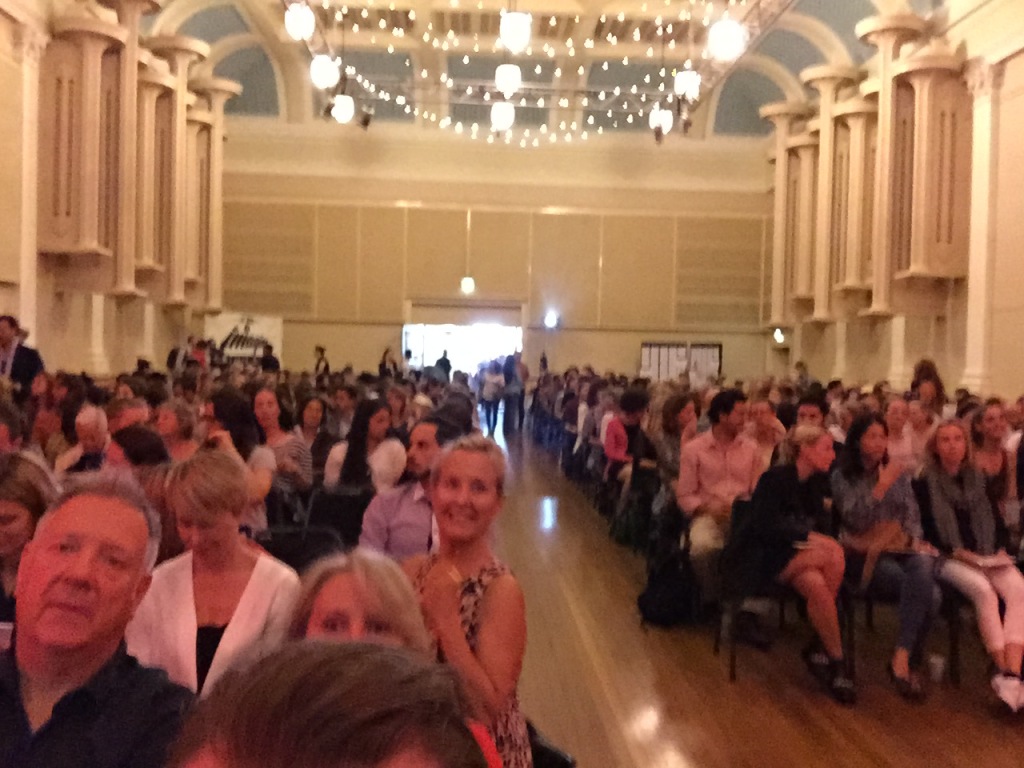 Once everyone was seated a speaker got on stage and briefly discussed some interested works she was doing with a student from the University of Sydney in relation to recording brain waves and activity during a meditation state. This was interesting and then the speaker said that she wanted to putting the experiment into play. This prompted her to bring on stage a fellow friend who is a yoga teacher, they then fitted a head piece to the top of her head which looks identical to the new Google Glass headset which is on the technological horizon. The whole auditorium then engaged in a group meditation session which probably went for about 15 to 20 minutes. This was an amazing experience just knowing that there was 500 people all in one small area being completely quiet and engaging in some amazing meditation. You could feel the relaxed and positive vibes around the auditorium.
The results of the mediation brainwave headset was discussed with us on the large screen displaying the results and it became apparent that the minds activity and brainwaves dramatically reduce throughout the meditation process.
Gabriela & Cecilia Live Music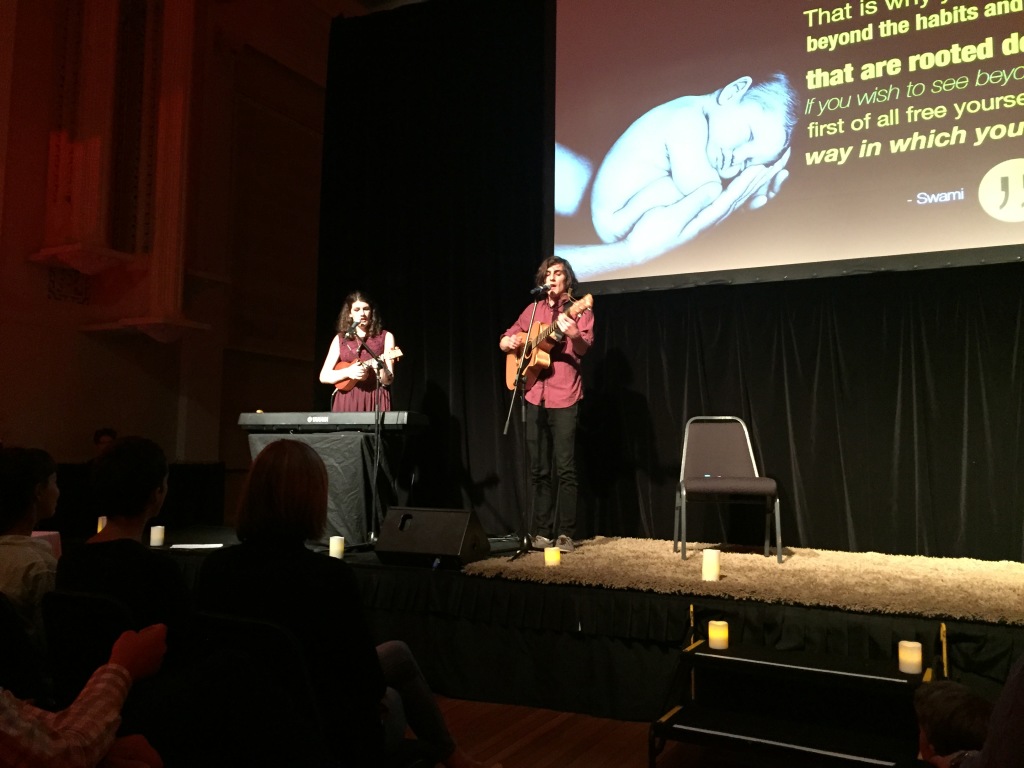 After the group mediation we were introduced to Gabriela and Cecilia who are the brother and sister duo that appeared on Channel Nines "The Voice" this year.
The duo played about 3 or 4 of their songs and had a brief chat to the audience about their music and their conscious living that inspires their music.
"Eat Less, Tip More" by Phil Fiebig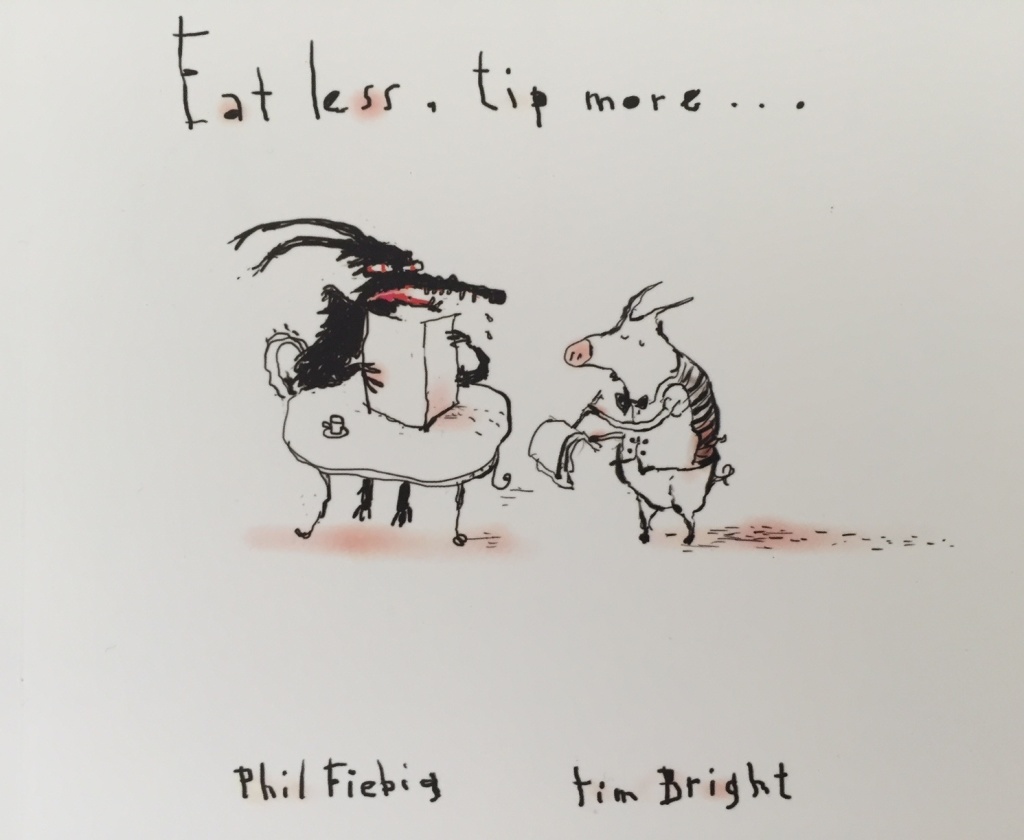 Next we had the author of the small book that we all received come up on stage and discuss a bit about himself and how he came to write the book titled "Eat Less, Tip More".
Phil Fiebig's story was extremely interesting since his background was in big business advertising (a modern day "Mad Men") where he openly admitted to having helped promote some of the world biggest brand names including some he is not proud of like cigarette and alcohol brands.
But after many years in the industry he decided to retire and become a volunteer. He discussed the book and how it came about and encouraged us all to read the book and be mindful of the core message that is being presented.
His path is clearly inspiring and he finished his talk explaining how he donates a lots of the money from book sales to Alzheimer's Research since he has had friends who have suffered from the condition first hand.
Presentation by Co-Founder Gary Gorrow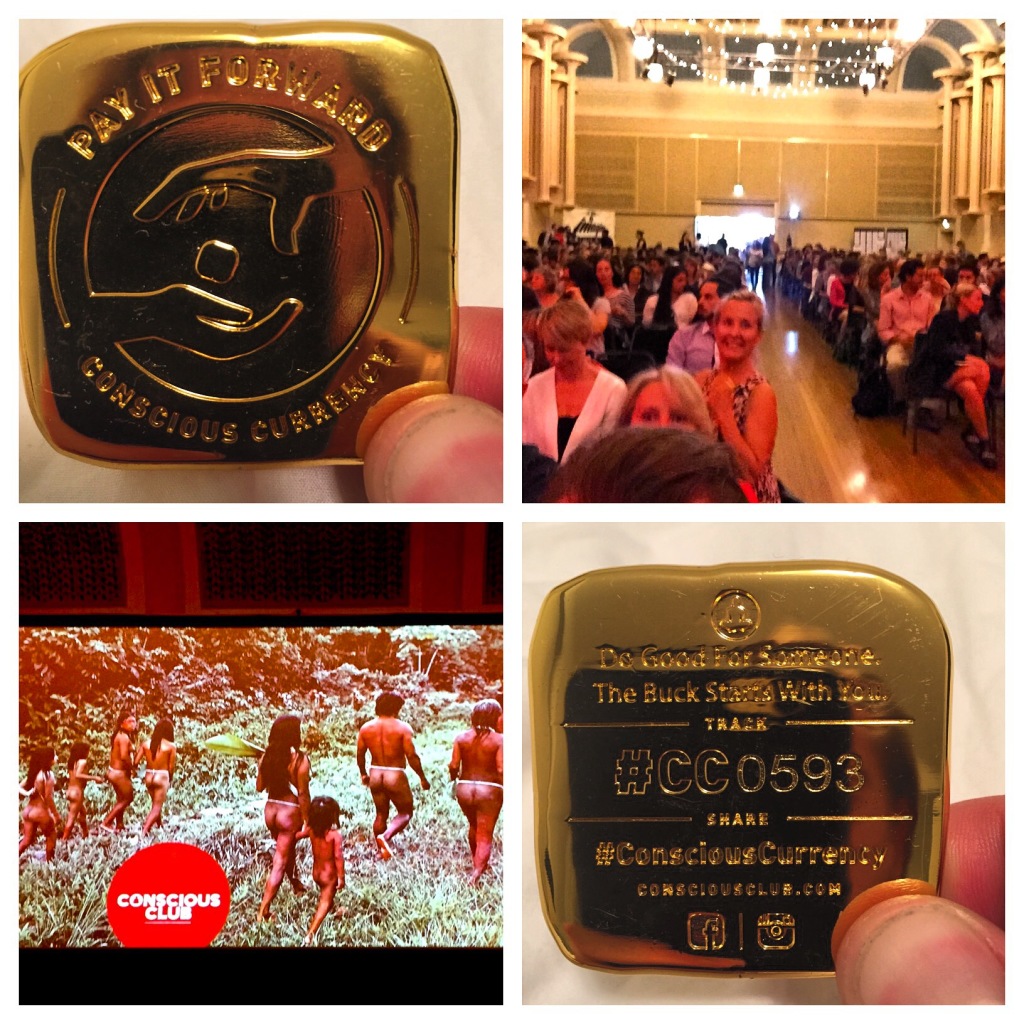 Gary gave about an hour long presentation without the use of any notes which was quite impressive. He really delved into a whole range of issues surrounding conscious living including being kind to one another, caring for the environment, volunteering and encouraging the giving to others who are less fortunate that we are.
Gary presented too many examples throughout his presentation to list but needless to say that his entire presentation was extremely heartfelt and powerful.
Gary also introduced everybody to the #ConsciousCurrency initiative. This was what the gold bullion looking coin was that we all had sitting on our seats when we initially walked into the auditorium. Basically the idea behind this Conscious Currency is to – #DoGood – do a good deed towards someone else and once you have done that then you should hand over to them the Conscious Currency and tell them that they also need to do a good deed to someone else and continue to pass on the Conscious Currency which will ultimately initiate good deeds everywhere amongst people throughout the world.
The awesome thing with the Conscious Currency is that each coin has a unique serious number imprinted on the back of it and it also includes a hashtag so that each and every person who comes into contact with the #ConsciousCurrency coin can track its movements through the many hands that it goes through. The idea is to either put the good deed that you have done for someone on Facebook, Instagram, Twitter, Tumblr or any other social network so that anyone can see and appreciate the trail of good deeds that is emanating from the Conscious Currency.
I am really excited about being involved in this initiative but I first need to work out who I will provide the good deed to and pass on the Conscious Currency coin.
Wrapping up the night
The presentation came to an end and for me there was a mixture of feelings of belonging, kindness, happiness, inspiration, excitement and even a bit of nervousness.
Everyone eventually made their way out of the auditorium into the top foyer section for tea and organic chocolate. I continued to mingle with some new and interesting people that I had met for the first time that night.
For me it was actually a situation where I was brand new to the experience and really only knew 1 or 2 people so I was forced to break out of my comfort zone and get talking to new people.
All in all the night was an incredible experience made up of music, presentations, documentaries, mediation, healthy food and beverages but most importantly the opportunity to meet new and interesting people.
In short I can definitely say that I will be back again next time.
Do You Crave MORE Productivity & Positive Energy in Your LIFE
Click on the Encore Energy Program button below to find out more!