Ever Heard of CT Fletcher?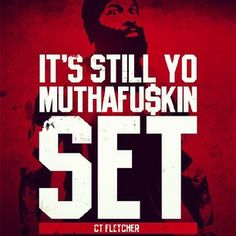 No? Well I hadn't heard of him either until about a year ago when all my gym head buddies started going around quoted some of CT Fletchers quotes and lines out of the YouTube video posted above.
After watching this video it is clear you can see that CT Fletcher is a no nonsense and no-bullshit type of guy. If you check out his website www.ctfletcher.com then you will see in the "about" section what his credentials and life obstacles has been:
"I've competed in Powerlifting for almost 30 yrs. won 3 world "drug free" bench titles, 3 World Strict Curl titles. Now in my 50′s I've decided to focus on Bodybuilding. So far, I've earned a World drug free bodybuilding title, and earned a chance to compete for a IFBB pro card in the Non tested NPC div. (over 50 class) in 2005 I had open heart surgery, flat lined 3 times during that surgery, and was told, I would never lift weights again, I BELIEVE IN GOD, and he has spared my life."
Cult Internet Status
In recent times, like since 2012, CT Fletcher has gained some notoriety for a profanity speaking hard ass muthafucker when is comes to pumping iron. Just like Kimbo Slice became popular as a kind of internet celebrity due to his many amateur bare knuckle boxing fights that were uploaded onto the internet, similarly CT Fletcher has gained quick worldwide attention through the internet. Best way you could describe CT Fletcher is like some sort of South Central LA bodybuilding ghetto gangsta. With Compton tattoos up his arm one could be mistaken not to think this.
CT is not a younger fella, at the age of 54 years any one would think that is is unusual that they hadn't hear of him before & whats more people are often shocked to learn his age when his size and physical appearance certainly doesn't look like your average 54 year old. As mentioned above CT Fletcher is no Johnny Come Lately, he has been on the bodybuilding and strength scene for a long time having competed and won numerous titles. But in recent years his has obtained a certain level of cult icon status thanks very much to the power of social media on the internet.
I guess one of the things that has seen his persona elevated to such a cult status is the fact that he has a no bullshit type of attitude as he will bluntly tell anyone there is no secrets to success or achieving your goals or physical prowess. There is no easy way to get big or get in shape, there are no supplements or special workouts which will magically get you results (unless of course you cheat with drugs i.e. steroids, which is something CT Fletcher does not believe in). At the end of the day CT Fletcher is a proponent of hard work and PERSISTENCE. If you do the hard yards, workout constantly and consistently push yourself and your limits then that is what will yield the results. Stop looking for an easy way out, get off your ass and work for whatever you want. It wont be easy and it wont be quick but as CT Fletcher will tell you it is the only way to achieve success.
So through social media such as YouTube and videos similar to the one above, CT Fletcher has become a name synonymous with hard core no nonsense drug free bodybuilding and a number of statements or catch phrases have becomes highly quoted and extremely popular among gym goers which has seen his popularity sky rocket all over the world.
You can hashtag #ISYMS and you will find so much information, inspirational and motivational pictures and quotes all directed towards CT Fletcher – ISYMS = Its Still Your Muthafuckin Set.
CT Fletcher Workout
After looking into what CT Fletcher stands for it becomes evident that his mode of training is not fanciful and not all that complicated. I guess you could describe it as hardcore yet simple. He has previously referred to his style of workout as a Penitentiary Workout style where instead of focusing on a certain number of sets and reps he puts more focus on what the body actually says and can do. Listen to your own body and push it to its limits. If you are using heavy and challenging weights then you should not just be performing a specific number of sets and reps instead you should be pushing yourself as HARD as you can until you can no longer get any more sets and reps out. Its not rocket science but its not easy.
Check out some of CT Fletcher's favourite workout exercises below:
Five to six of a minimum of ten reps
• Contraction or Cable curls
• One arm dumbbell preacher curls
• Incline bench harmer curls
• EZ bar preacher curls
Shoulder exercises
• Barbell lateral raise done in a standing position
• Dumbbell overall press done in a seating position and
• Smith overhead press, also done in a sitting position.
Chest exercises
• Smith bench
• Pushups
• Flat barbell and dumbbell bench and
• Incline barbell bench
Bicep exercises
• Concentration curls
• Barbell and dumbbell preacher curls
• Incline bench hammer curls and
• Straight bar cable curls
Triceps exercises
• Straight bar tricep extensions and
• W bar tricep extensions
Back exercises
• Lying machine and T-Bar rows
• Dumbbell rows
• Pullups
• Deadlifts and lat pulldowns
Leg exercises
• Box squats
• Squats and
• Hack squats
What now for CT Fletcher
Now that Mr Fletcher has relatively new found fame and infamy he is making good use of it by putting himself out there online in order to create a positive change in the younger generation. At the ripe old age of 54 years despite looking like a 40 year old has people all over the world listening when he speaks. It is clear that he is monetising some of his internet popularity by selling t-shirts, phone applications, master class videos and other products to help motivate and inspire people, and good on him.
Even at 54 year CT Fletcher is lifting more than your average bodybuilder and for this reason he still plans on getting back to competing in power lifting and defend his unbroken record for strict curls.
In any event we love his style, attitude, his no nonsense & no bullshit form whilst promoting safe and drug free weightlifting.
And if you don't know, now you now that "IT'S STILL YOUR MUTHAFUCKIN SET"
Where you can find the BIG FELLA?
Website: CTFletcher.com
Facebook: CT.ISYMS
Twitter: @CTFletcherISYMS
Instagram: ISYMS
***