The Beach (2000)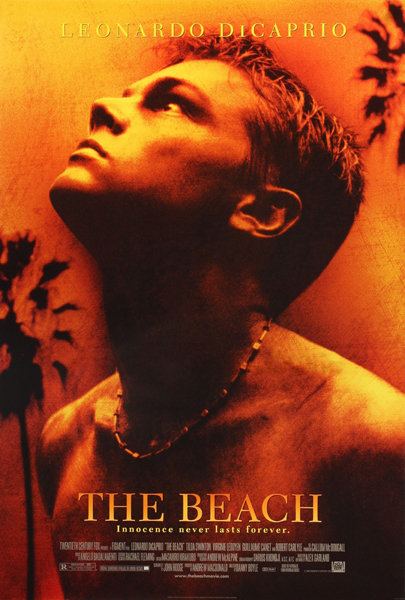 In 2000 rookie director Danny Boyle turned the novel by Alex Garland into a silver screen production starring none other than Mr Leonardo DiCaprio who played the character of "Richard" a young 20 something backpacker from the United States making his way through the usual backpackers trail in South East Asia looking for something different, looking for some adventure and most of all looking for PARADISE.
Early in the movie Richard (DiCaprio) unwittingly stumbles upon a map but not just any old map, it is a map which leads him to a secret beach in amongst the tropical islands of Thailand. He persuades a French couple who are also in search of adventure to go and search out this paradise beach.
We follow their journey in eventually finding the island and the beach. Along the way they encounter drug lords growing massive marijuana plantations before gatecrashing a small community who have already made a peaceful life for themselves at the beach. Luckily Richard and the French couple are welcomed into the already established beach community.
Everything at the beach is just perfect for quite some time, I mean who wouldn't be delighted to be a part of a small carefree and self-sufficient community living on a tropical paradise island with an amazing secluded pristine beach, being surrounded by a bunch of really cool easy going people from various countries around the world and whats more all the marijuana you can smoke. But after some time cracks begin to emerge especially when Richard takes on a new romance with the female half of the French couple. Various other problems arise when it becomes clear that Richard had given the secret map to other loud and tacky backpackers determined to find and gatecrash the small community.
Towards the end of the movie Richard begins to really lose touch with reality and begins to harbour some seriously sick and crazy thoughts. He really begins to derail and lose his shit.
Sadly but inevitably the community disbands when confronted by the islands drug lords who demands that they leave the island and never return. The morals and values of the once tight group end up becoming so damaged that all trust and leadership is unable to be repaired. So the whole group end up leaving the beach however the fact that they were all once a part of a unique paradise beach and special community of various characters is something that would undeniably stay with them for the rest of their lives. It was like their own special time that forged memories, bonds and friendships that would last forever.
Having been on several overseas backpacking trips this is the sort of sense of belief and feeling that one develops having taken the time out to explore and experience a backpacking trip overseas especially in a developing country.
Backpacking Culture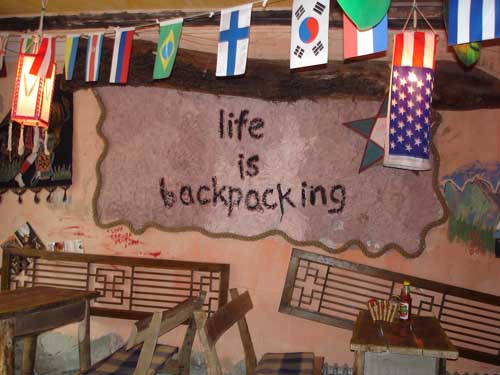 The Beach (2000) is a unique type of movie that can really resonate with most people who have taken off overseas to backpack their way around foreign lands seeking adventure and to experience different cultures around the world.
Some people may not find The Beach (2000) to be that good of a movie however for others like myself it is one of my favourite movies as it really struck a chord with me as a person who absolutely loves adventure travel and backpacking.
Many aspects of The Beach (2000) really provide a realistic insight into the vibe and feel of backpacking through Asia.
The Beach (2000) Travel Influence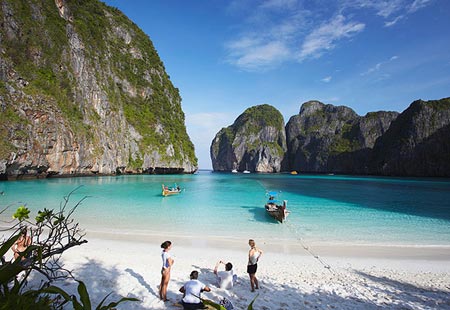 So its obviously no secret that I am a massive fan of the movie and everything about it. But The Beach (2000) actually had such a significant influence on me so much so that it sparked a real love of backpacking travel throughout various countries around the world.
In 2004/2005 I took 2-3 months off to travel half-way around the world to seek out adventure on my first backpacking trip in Mexico, Guatemala, Belize, Cuba, Honduras and a little bit of time in Los Angeles. This was real adventure, no it wasn't South East Asia or Thailand just like the setting for The Beach (2000) but Central America did offer up some unbelievable experiences and different cultures – it was an incredible  2-3 months giving me the opportunity to meet some great people and open my eyes up to the big wide world out there.
My Time in South East Asia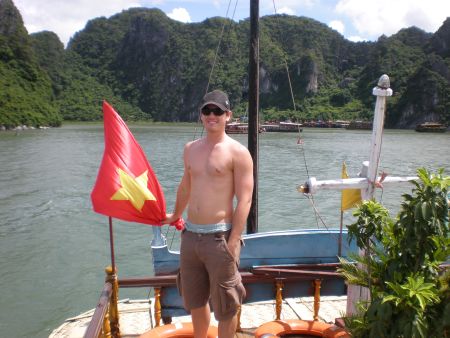 In 2008 I decided it was time to take off to experience and somewhat act out my own adventure influenced by the movie The Beach (2000).
Whilst I did not come across a map leading me to a secret paradise beach and unlimited amounts of marijuana, I did however find excitement and adventure by backpacking extensively throughout Thailand, Laos, Vietnam and Cambodia. Not only did I find some beautiful pristine beaches along the South East Asian coastlines but just as much exploration was done in the highlands of Thailand and Vietnam and the various ruins of Angkor Wat in Siem Reap, Cambodia. A bit of tubing on the Mekong River in Vang Vieng, Laos also provided a memorable experience never to be forgotten. For better or for worse the Laotian Government has now banned this highly adventurous and dangerous activity.
This backpacking adventure inspired me to start my first blog online Backpacking Addictz.
My 2008 backpacking adventure was a longtime in the making. It was a dream that was inspired from the movie The Beach back in the year 2000. As mentioned above I didn't find a secret beach but I did find adventure. freedom in its most true sense and a REAL appreciation for the important things in life. Most definitely 2 months of my life that will never ever be forgotten. I have since developed a passion and love for backpacking adventure travel. However, the older you get and the more commitments and responsibilities you pick up as the years go on does make it hard to just pick up and backpack overseas. So my advise is for anyone in their 20's who is not tied down with too many commitments is to get out and see the world. It really is bigger than the place you live in and it will constantly teach you new things and amaze you.
The Wrap Up on The Beach (2000)
All in all The Beach (2000) has become somewhat of a cult movie especially for backpackers and adventure travels around the world. For many people it is a rite of passage to take off after school and seek adventure in foreign lands.
The movie The Beach (2000) reflects the backpacking culture in South East Asia and how many of the main areas have become sleazy drunken tourist traps well worn out by past travellers seeking adventure. But the sad reality is that as the years go on and tourism becomes bigger in this region of the world it has turned it into a commercial tourist hub which has taken the authentic shine off what the cultures in these countries have to offer. We now need to find out other small hidden pockets of the world that offer the serenity and culture that many seek to discover in the now worn out paths of South East Asia. I suspect the countries between India, China and Mayanmar are now the place to explore and seek out the raw adventure so desired.
Perhaps director Danny Boyle and actor Leonardo DiCaprio need to get together again and brainstorm a new feature film on seeking out adventure in new untainted destinations around the world.
For me The Beach (2000) offers me a strange mix of inspiration and freedom, it also allows me to reflect of the good times and adventures I experienced in South East Asia in 2008 and even Central America in 2004/2005 plus other smaller backpacking adventures I have experienced around the world.
Watch the Full Movie Online Right Here – The Beach (2000)