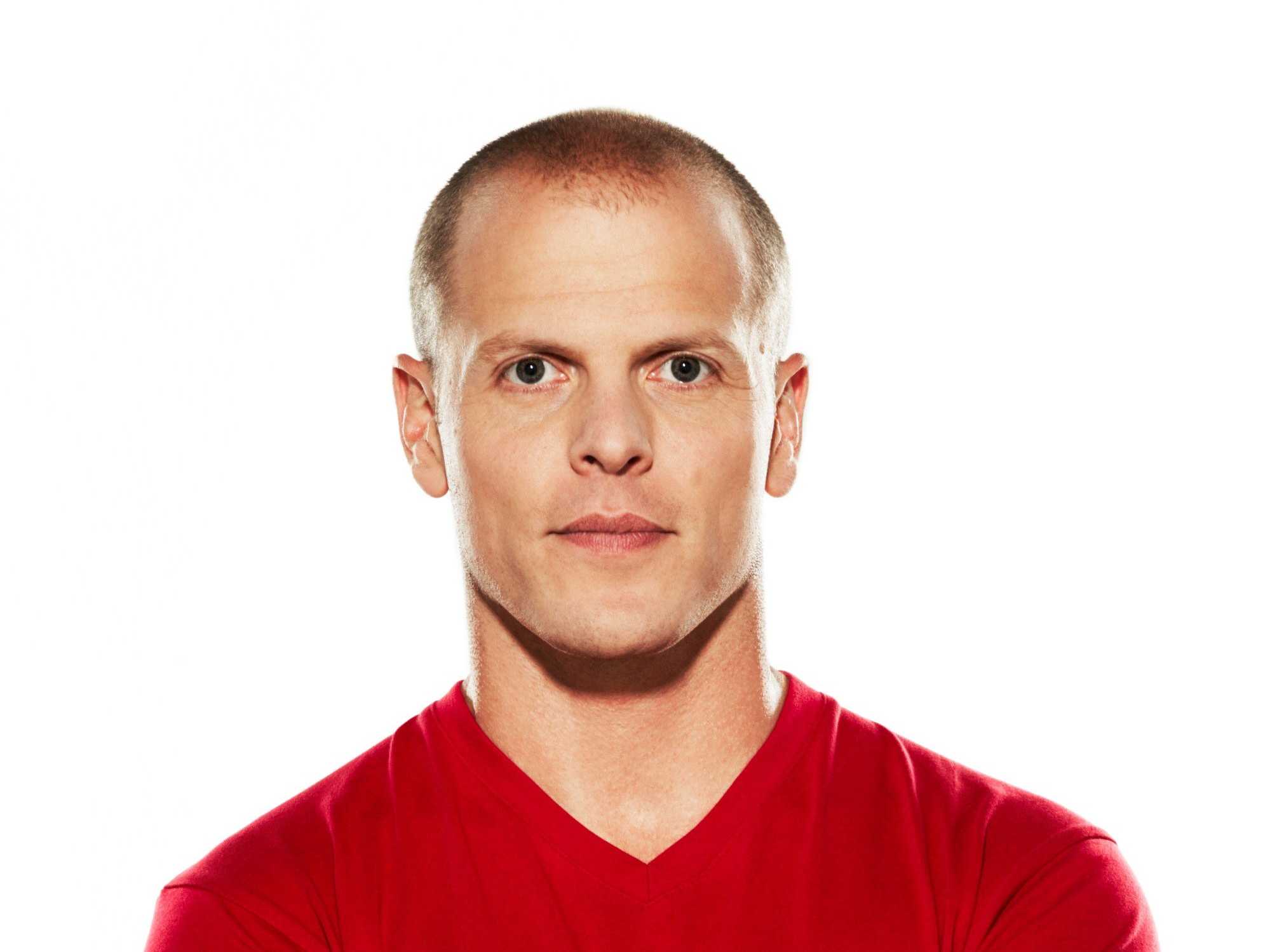 Who is Tim Ferriss?
Tim Ferris was born in 1977 and grew up in East Hampton New York, in his later years he attended Princeton University where he studied East Asian studies and then switched over to Neuroscience.
In the early 2000's Tim Ferriss founded a nutritional supplement company called Brain Quicken. Through a lot of hard work and savvy business skills he grew this company into a very successful business however, as he mentions in his #1 bestseller The 4 Hour Workweek, the success of this business was consuming far too much of his time and he was becoming far too immersed into this company. He lost much of his freedom despite making huge amounts of money and needed he quickly needed to change the course of his business in order to free up his time.
Tim did this by simplifying his business and putting appropriate systems and measures in place to run his business without the need for him having to work the business 14 hours a day. You can look up his process of minimization and simplification of his business by reading the 4 Hour Workweek where he details the processes he undertook to achieve this. In particular have a look at this blog post by Tim which explores the history and art form behind his processes that emanated from the Roman Emperors most trusted adviser Lucius Seneca.
What is Tim Ferriss famous for?
Tim Ferriss really obtained cult icon status through his original book the 4 Hour Work Week. This #1 bestseller had been around for a couple of years before I got my hands on it in early 2010. I guess the book really resonates with me because I had just gotten back from a 12 week backpacking adventure throughout South East Asia where I came to realize that the corporate rat race was not the ladder that I wanted to be climbing. Instead I wanted to ignite the inner entrepreneur within and dance to my own beat…so to speak.
I think that's what is so important about this book is that it looks at the importance of your time as opposed to your bank account balance. The 4 Hour Workweek focused on the emerging renaissance of the "New Rich" which showed us that we should learn to walk to the beat of our own drum in life. It discusses how anyone can escape the 9 to 5 grind, become their own boss, set up an online business with systems in place that allow for minimal time consumption but which generates enough money to take mini-retirements allowing the New Rich to travel more, spend more time with their families, do whatever it is that they have always dreamed of doing, basically simplifying their lives and removing the unnecessary clutter.
Tim really does look at a minimalist approach to business and living life in order to cut out the clutter and meaningless crap in our lives which tend to complicate things. For example why do we need a big mortgage for a big house and flash new car when we never get to truly enjoy it since we are working ridiculous hours in a corporate office just to be able to make monthly payments to maintain illustrious possessions we don't even really get to enjoy. Instead why not put systems in place where you can generate a passive income and go off and travel to foreign countries living on $50-$100 per day and really experiencing life and other cultures.
This is obviously just one example or scenario – everyone's lives are different and will have different aspects and subjective factors that will result in you taking a different approach. But the general idea is to free up your time so that you are able to get out and enjoy life and the things you have always wanted to do or open your mind up to new possibilities within our world.
In particular this book sparked an avalanche of other books, blogs, programs and speakers who talk about the "New Rich" culture and in particular making money online generally in a passive or minimalist type of nature.
Online marketers, online business people and general internet entrepreneurs will often refer to the 4 Hour Workweek as the written piece which completely change their outlook on life and business.
The book along with Tim himself has gained such a cult status and following that it is really hard to NOT see him as a modern day trailblazer of kind.
His follow up bestseller books were entitled the 4 Hour Body and the 4 Hour Chef. Each book looks at basically deconstructing the most effective principles at achieving the required goals sought. The 4 Hour Body obviously focuses heavily on achieving health and fitness goals. Whereas the 4 Hour Chef looks at preparing fantastic food and meals in the easiest of fashions. But the 4 Hour Chef also goes into a great amount of detail in teaching it's reader how to master any skill or activity through deconstructing the learning techniques or taking the Minimum Effective Dose (MED) and apply it to the mastering of the particular skill or activity.
Deconstructing Learning
As mentioned above and the main focus of the 4 Hour Chef saw Tim explaining his deconstructing learning process for any task or activity. Basically he looks at the minimum effective dose of any activity or skill otherwise known as the 80/20 principle or the Pareto Principle.
Basically, in a nutshell this is where 80% of the effects actually come from 20% of the causes or in other words 80% of your outcomes will come from 20% of your inputs. So what this means for Tim Ferriss and other proponents of these principles is that in whatever activity or skill we wish to learn of partake in then we should focus on the important 20% of what gets 80% of the results. Discard all of the other wasted time and effort put in which reap an insignificant amount of result.
More specifically Tim created his own process of putting these principles into play when attempting to master a skill or activity – his DiSSS CaFE looks like this:
D = for deconstruction. What is the minimum useful unit of knowledge?
S = for Selection. What 20% of those minimum units will lead to 80% of your desired outcome?
S = for Sequencing. What's the most effective order for learning these units?
S= for Stakes. What psychological and social mechanisms can you setup for discipline and motivation?
C = for Compression. Can I compress the most important 20% into a one-pager?
F = for Frequency. What is the best duration and frequency, knowing my personal limits and goals?
E = for Encoding. How do I create mental anchors to make sure I remember stuff?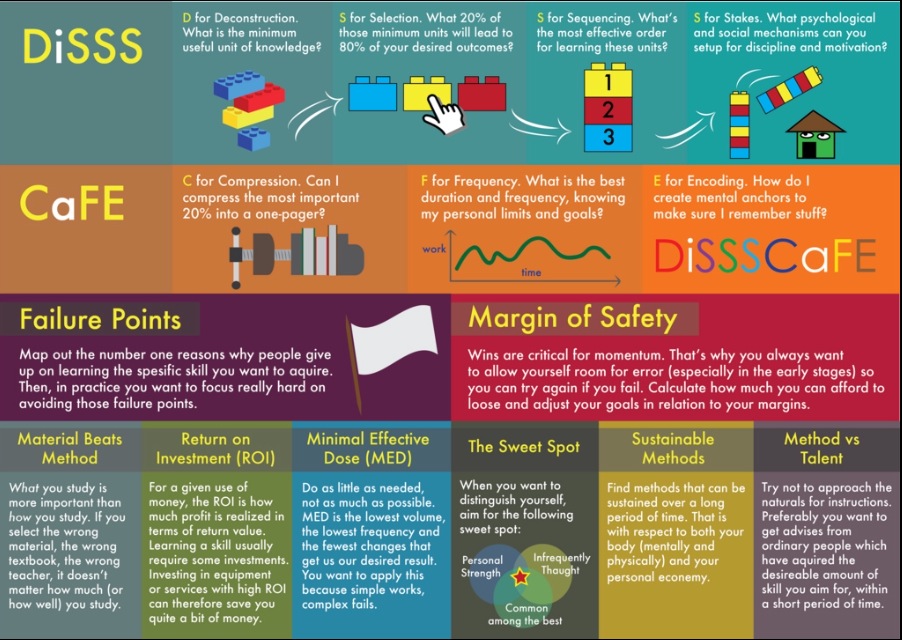 Why Tim Ferriss is kickass?
We for me personally I am a massive fan of this guy, so much so my wife is bloody sick of me talking about him haha.
But seriously the guy is awesome, he is constantly testing and pushing the boundaries on various things in life (often referred to as Life Hacking) to present to the masses the best and most effective way of achieving success in our lives.
For this reason I believe that Tim Ferriss is a modern day trailblazer whether it be losing weight, building muscle, sleeping better, learning a language or skill in record time, getting your female partner to orgasm more intensely, living healthier, living longer or just LIVING then Tim Ferriss is at the forefront of finding out how we can better our lives through testing new directions in life.
That's right ladies and gentlemen, Mr Tim Ferriss, the self-proclaimed human guinea pig is out their putting his body, life and self-respect on the line by experimenting with all sorts of interesting activities and skills in order to find the best way in which you too can improve your life.
But don't be mistaken that Tim Ferriss is just out there making a quick gimmicky and over-sensationalized name for himself, he is actually a highly intelligent entrepreneur and public figure in his own right. He advises many of the worlds largest tech companies such as  as StumbleUpon, Lyft, Posterous, Evernote, DailyBurn, Shopify, Reputation Defender, Trippy, Foodzie, Badongo, TaskRabbit, RescueTime, and SimpleGeo in addition to having a small equity stakes in Facebook and Twitter.
No biggie!!
Anyway if you are looking for a highly intellectual, highly entertaining person who just really seems like a really love-able guy and good bloke then check out any of his works and most importantly keep an eye out for his new works constantly in the making.
Tim Ferriss' works & where you can find him?
Books:
The 4 Hour Work Week
The 4 Hour Body
The 4 Hour Chef
All of the 4 Hour Books can be found at Fourhourworkweek.com
Website Blog:
Four Hour Work Week Blog – Tim's blog is chock full of some really insightful articles on a whole range of case studies, life hacks and interesting deconstructive learning topics. Be careful in visiting his website, you may just lose a few hours of reading before you know it.
Podcast:
The Tim Ferriss Show – In 2014 Tim has really exerted some effort into his new podcast. It is basically a mix of interviews with some incredibly skilled and interesting people or alternatively he hosts some mini shows where Tim provides some very insightful spoken words on various life hack topics.
Be warned some episodes require you to kick back and consume a nice fine bottle of red wine, listen to some of the earlier episodes and you will see why.
TV Show:
The Time Ferriss Experiment – Tim put together a number of TV episodes where he would attempt to take on a specific task or activity that he had never previously attempted and within a short space of time he would attempt to master the skills needed to succeed at the activity. This was done through Tim's deconstruction learning techniques.
I am not sure if these TV episodes aired on television or iTunes or whether they were cancelled. But I am sure they are available to watch online somewhere. If you can get your hands on them then make sure you get onto these – highly entertaining viewing.
Tim Ferriss Contacts:
Personal website – http://www.timferriss.com/
Twitter – @tferriss
Facebook – http://www.facebook.com/timferriss/
***