Blogging – has become an absolute phenomenon in the online world. What is a blog or blogging? Well simply put a BLOG is a truncation of the expression "weblog" or in other words a place online where you can log material and written content on any subject you wish to talk about. Most common blog forms come in the manner of a website with articles or often referred to as blog posts publish for the online world to see. In this day and age it has become so easy to set up a website and create a blog. As you would be aware blogging has become so widely used that people and multi-national corporations can make a pretty penny from blogging due to the fact that a successful blog can attract vast amounts of web consumers from all over the world thus making blogging an integral part of many industries the world over.
Having myself been a blogger and online marketer since 2009 on various website projects I have come to learn a few neat tips and tricks when it comes to putting together a blog post that is well written, well structured, well marketed and that has the opportunity of being seen by vast numbers of people throughout the world.
Throughout this "epic" blog post my aim is to guide you through the process of not only creating a powerful blog post but also show you how to promote the blog post so that you can have it seen by as many people as you can.
PART 1: Creating an 'EPIC' Blog Post
Throughout this section we want to raises a number of issues that you will need to consider when setting out to create a well written blog post that is capable of going viral and being shared amongst masses of people online. Your blog post will only become 'EPIC' if it worth sharing with other people so as to offer them something of value.
What is your blog post about?
Basically, you need to develop a concept for your blog post and aim to produce an outcome for people who actually read your blog post. Whether that outcome be a how to guide, or a point of reference, educational or entertainment post, or simply a well structured piece of content that provides inspiration, creativity and allows others to share and connect with one another, at the end of the day you need to set out writing an 'epic' blog post will an outcome in mind. You do NOT want your blog post to suck and just be a long diatribe of words which does not provide value to the reader.
Put bluntly your 'epic' blog post MUST provide value to the reader.
So consider this point carefully and develop a concept for your blog post with the intention creative value and the ability to offer help to other people. Generally we see 'How to Guides' or 'Step-by-step' blog posts offer people massive amounts of value since they show you how to do something they you may want to know. Other types of in-depth and well structure research papers can form unbelievably epic blog posts since they can provide educational understandings of issues that people seek to understand.
The Style of an Epic Blog Post
Step-by-step guides
Reference manuals
Research Essays
Innovative concepts & thought provoking ideas
Quote Blocks
Bullet Points
Related posts
Author box
Typography
Start with an introduction that explains to readers why it is important to read your post.
Use facts, examples, and anecdotes to drag in readers. It doesn't hurt to offer counterpoints and your opinion here, too.
Start developing the body by using subheadings. This allows readers to skip to sections they may be more interested in.
Round out the post with practical information, tips, and advice. Do the same if you're developing an opinion.
Finish up with references and links to additional reading. For businesses, it may help to add a call-to-action here, too.
It isn't easy to explain the process of writing a 2,000-word post; however, the benefits are endless.
Read more at http://www.business2community.com/blogging/write-epic-blog-posts-0941861#j0Lmo4hAjxTRm0gU.99
If you
Layout
Content
Length
Interactivity – Videos/Polls/questionaires
Images
On page SEO
https://blog.kissmetrics.com/17-advanced-methods/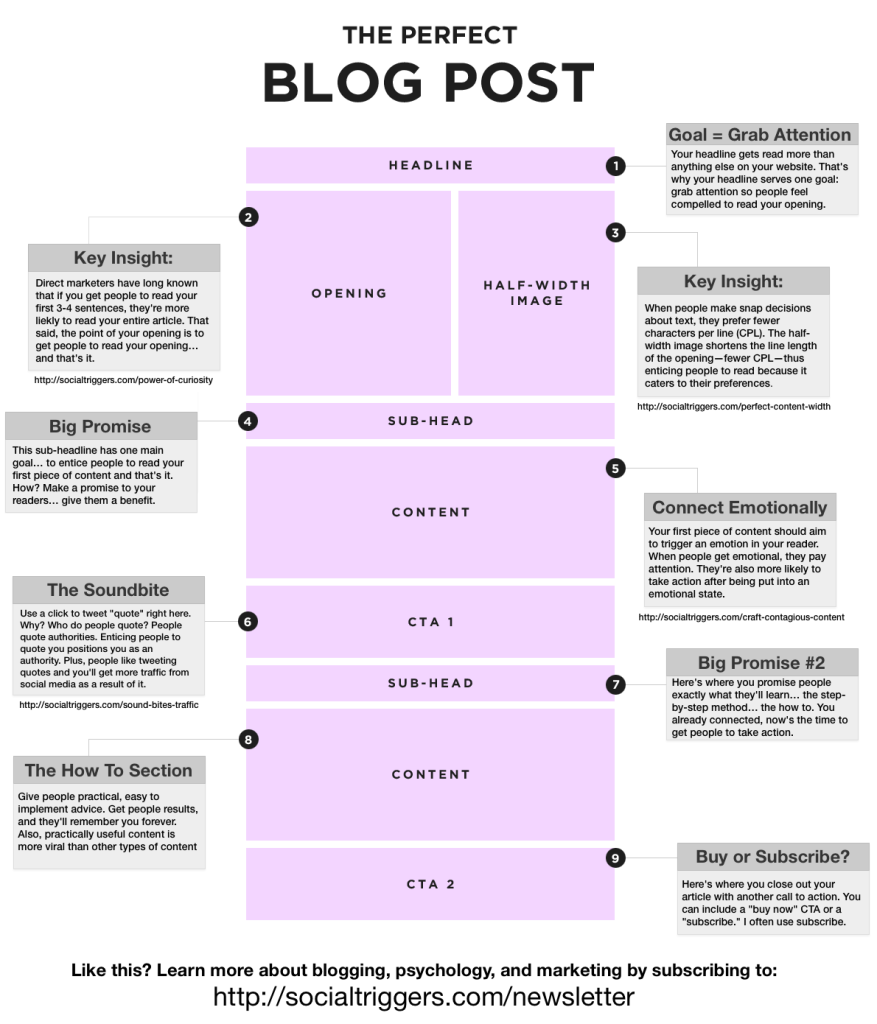 Must have EPIC content to be able to promote
Link to other influential blogs
Reference & quote experts – then tweet them to let them know
Social sharing buttons
Email your subscriber list
Share to your social networks
Publish to other social hubs (tumblr, rebel mouse, clipboard, scoop etc)
Syndicate to other blogs & steal their audience
Publish to relevant sub-reddits
Engage new readers via Blog Engage
Post to popular Facebook Pages & Groups (hack existing audiences)
LinkedIn to get new people
Pin to shared boards on Pinterest
Scoop.it
Flipboard.com
Sulia.com
Google+
Tumblr
Niche Forums
Add blog content to aggregation sites (Digg.com, Alltop.com, Technorati.com)
Syndication websites (inbound.com, kingged.com, BizSugar.com, AffPosts.com, http://www.buzzblogger.com/500-places-to-syndicate-your-content/)
Package in PDF & share documents (docstoc.com, Scribd etc)
Make slideshows & share – http://www.trafficgenerationcafe.com/slideshare-traffic/
Create visual Infographics & share (Visual.ly, DailyInfographic.com, Coolinfographics.com, Vizualarchive.com) with custom written paragraph – http://www.quicksprout.com/2012/06/11/5-ways-to-get-your-infographic-to-go-viral/ and http://backlinko.com/seo-strategy
Create Video Teasers
Network with Authorities
Tweet influential people & try to get retweets
Email anyone you have influence to get more likes & shares
Blog comment & leave relevant links
Google Alerts to stay updated with similar content
Contact people who have linked to & shared similar popular content
resources:
http://www.incomediary.com/30-great-examples-blog-post-styling
http://www.incomediary.com/how-to-write-epic-blog-posts-that-rank-well#What_Makes_a_Blog_Post_Epic
http://digitalmarketingphilippines.com/master-the-art-of-writing-an-epic-blog-post-with-these-8-tips/